Your dental health and overall health go hand in glove. Compromised oral health can lead to several health issues, such as diabetes, heart diseases, and even cancer. Hence, it is essential to take a proactive approach to maintain sound oral health. You can do it through preventive dental care. 
What is Preventative Dental Care?
Preventative dental care or preventive dentistry entails practices concerned with the care for your oral health to keep your teeth and gums healthy. It aims at adopting measures to prevent cavities, enamel wear, gum diseases, etc. Brushing your teeth regularly, flossing twice a day, visiting us for regular oral checkups - all these measures fall under preventive dentistry. 
Your Role in Preventive Dental Care
You have the most important role to play in your preventative dental care. The best you can do to keep your teeth and gums healthy is to practice good oral hygiene. Brushing and flossing your teeth twice a day will protect you from dental issues and the possibility of undergoing complicated dental treatments in the future. However, make sure you use fluoride toothpaste and a soft-bristled toothbrush for the purpose. 
Furthermore, using a medicated mouthwash to rinse your mouth after flossing and not consuming hard food items such as candies, seeds, bony meat, etc., also help. Also, do not consume acidic foods, as they harm the tooth enamel. Quitting smoking or tobacco products also contributes to better oral health. Using mouthguards for habits like grinding or while playing certain sports are measures under preventive dental care.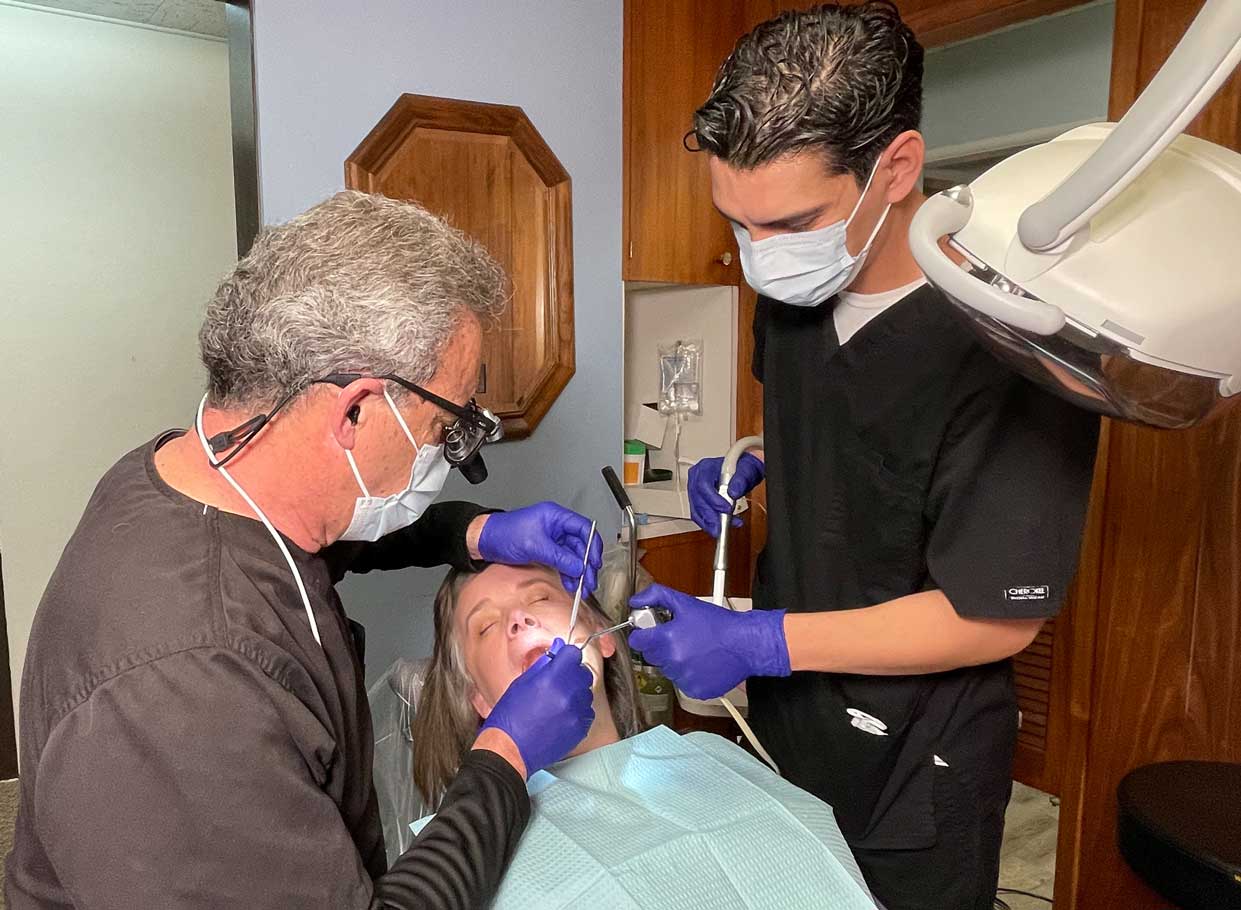 Common Preventative Dentistry Services
Regular dental examinations (every six months)
Teeth cleaning or scaling 
Routine X-rays
Sealants
What are the Benefits of Preventive Dentistry?
Fosters good oral hygiene habits, such as brushing and flossing twice a day. 
Prevents your oral cavity from tooth decay, gum disease, and other serious dental problems. 
Early identification of dental issues that help in minimizing treatment duration and cost involved. 
Prevents dental issues related to chronic medical illnesses, such as diabetes, cancer, and eating disorders. 
Preventative Dental Care for Children
Promoting healthy dental habits, such as brushing and flossing
Teeth cleaning and oral examinations every six months
Sealant application
Fluoride application 
Routine x-rays to monitor jaw and teeth development 
Using mouth guards if necessary 
Orthodontic treatment, if necessary
Identifying health issues that could impact the dental health of a child
Please reach out to Old Town Orange Dental Group in Orange, CA, to have a consultation with our dentist, Dr. Levitt. Please call Dentist in Orange, CA at (714) 997-9030 or schedule an online consultation, and we'll guide you further.